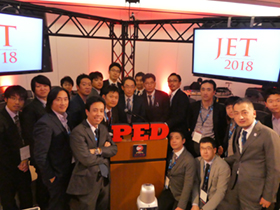 First of all, I would like to thank the many participants for making this past JET2018 conference a great success and the most well-attended with over 2000 participants from both Japan and abroad.
As the largest Endovascular Meeting in Asia, we hope for its continued development and success.
JET2019 will be chaired by Dr. Urasawa and held from February 22nd (Fri) – 24th (Sun) in Tokyo. The details are as follows:
Chairperson: Dr. Kazushi Urasawa, Tokeidai Memorial Hospital, Sapporo, Hokkaido
Dates: February 22nd – 24th, 2019
Venue: Garden City Shinagawa, Tokyo
We look forward to welcoming you to the JET2019 conference in Tokyo next year.
Yoshiaki Yokoi
JET President